What is an MCA in Data Science?
An MCA in Data Science is a 2-year technical degree program that enhances data analysis and data science knowledge and skills of students through conceptual and hands-on skill papers. This course is appropriate for both working professionals and graduate freshers wanting to start or enhance a career in data science.
Here are some quick MCA facts about DU-SOL:
This is a postgraduate degree program in the specialisation of data science.
This course is of a full period of 2 years, divided into 4 semesters.
This course is for those candidates who have qualified their Bachelor's degree and have studied mathematics at either the HSC or graduation level.
There is a good scope of career development after completion of this degree.
Universities usually offer professional support and placement assistance for this course.
Online MCA Specializations Offered by DU SOL MCA
MCA in Full Stack Development
The candidates will get the following options of online MCA specializations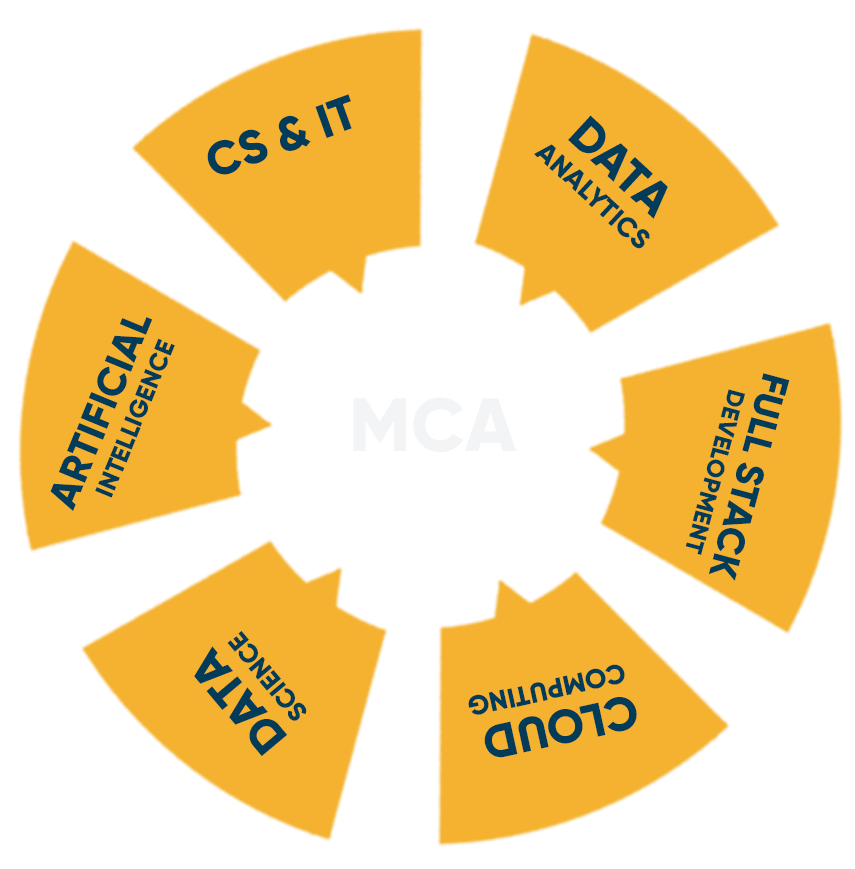 Online MCA Data Science in India (Find the Best Schools and Degrees)
An MCA course in the specialisation of data science is a lucrative IT domain to venture into. The rising importance and reliance of top companies on data science has led to a growth in the demand for professionally qualified and trained data scientists. So this course is rising in popularity and students can explore successful careers in data science in this domain.
Modes of Delivery
Students taking this course can choose between 3 main modes in which it is offered currently in India– the conventional regular mode of education, the online learning mode (OL) and the Open Distance Learning (ODL) mode. The online and distance MCA has been approved by the UGC-DEB (distance and online learning division of UGC) as being a course of equal value, comprehensiveness and rigour as any regular MCA. So an online or distance MCA in Data Science now has equal importance and credibility as a regular MCA.
Evaluation
Like other PG degree courses, students pursuing this course are evaluated on the basis of a number of aspects like their assignments, projects, quizzes, group activities/hands-on sessions, term-end exams etc. which broadly are marked in two categories– the Internal Assessment (IA) and the semester-end examinations, in the ratio of 30:70 respectively. A student must maintain a minimum score of 40% marks in the IA and term-end exams to qualify a subject in a semester.
Career Scope
This degree has a bright career scope, as already mentioned, since many top companies in the corporate world and IT sector are hiring trained data scientists for various strategic positions. Some of the career options in this domain include those like data scientist, data analyst, business analyst, data engineer, senior software engineer etc. The field is not only highly compensated, but also offers excellent scope of growing one's career since it is a growing field.
Placement Partners
Some of the companies that hire data scientists and MCA graduates in this field include TCS, WIPRO, Accenture, Deloitte, Infosys, IBM, Oracle, Databricks, Splunk, Cloudera etc. These companies hire data scientists at excellent pay packages, with perks and benefits, and freshers and experienced candidates can explore their options in the field in such companies.
DU SOL Sample Certificate
Earn a UGC & AICTE, NAAC A++ -recognised degree from DU SOL
Learn from the best faculty and industry experts.
Become a part of the DU SOL Alumni network.
Build job-ready skills to get ready for the workforce.
Who is Eligible for School of Open Learning Admissions?
UG Courses
10+2 from a recognized Education Board
A minimum of 45-50% marks in the qualifying exam.
Basic Knowledge of the English language.
PG Courses
Graduation from a recognized university.
At least 45-50% marks in the qualifying exam.
Must have studied the English language at 10+2 or graduation level.
Note: For some courses, the university might conduct an entrance exam & the eligibility will also depend on the scores of that exam.
DU SOL Admissions FAQ
Yes, an online MCA in Data Science is a valid degree program and of equal value as a regular MCA in India, provided that it has been completed from a UGC-DEB approved institution of higher education.
The average course fee for an MCA in Data Science can range between INR 1,00,000 to INR 2,00,000 for the full course.
No, DU-SOL does not offer an online MCA program in Data Science, however, a number of other online universities with due accreditations (UGC-DEB) provide this MCA in the online mode, like Vignan University, Jain Online University, Hindustan University etc.
No, this course can only be taken up by you if you have studied mathematics as a subject in either the class 12th level or the graduation level.