What is the last date of DU SOL Online BBA Admissions 2024?
The Online admission for Delhi University School of Open Learning starts its new academic session in the July month of every year. Students can take admissions into various courses that all are offered by DU SOL. To proceed with the admission process, students can register first and fill in the other basic and course details as per their selected course. You will get the update regarding the commencement date of online admission for the 2024 batch at the official website of DU SOL.
It is recommendable to the students that they should apply to the particular course before the deadline. To avoid such last-minute hustles, bad server, and payment issues. Candidates who are interested in enrolling in taking admissions to DU SOL online Bachelor of Business Administration (BBA) degree may visit at the university's official website, sol.du.ac.in. Only 12th pass-out students can be admitted to this online BBA course, as it is a Bachelor's professional degree. Though students can pursue this online BBA degree simultaneously with their respective jobs. The curriculum of this BBA degree course is highly flexible and understandable. After this BBA degree, students can get many job opportunities in the field of the professional and corporate world.
Objective of School of Open Learning Online BBA
The main objective of this program is to provide the basic knowledge of business administration and management to the students who are ready and willing to make their careers in the business corporate world. The required number of credits that students need to be studied under each credit and categories are as follows: 72 Credits of Core Course, 24 Credits of Discipline Specific Electives, 8 Credits of Ability Enhancement Compulsory Courses, 16 Credits of Skill Enhancement Courses, and 12 Credits of Generic Electives. The other main objectives of this course are below mentioned here:
This course develops the entrepreneurial skills, leadership skills, decision-making abilities of the students.
Students/ candidates will gain knowledge of business processes and global trade issues and understand the role of the economy in business and the market.
Students will acquire the skills to perform managerial and business management functions effectively and efficiently.
Students can pursue this course even with their jobs or other personal work.
After completion of the BBA degree, students will enjoy higher salaries in government, private, and MNCs with various designations such as Marketing Manager, HR Manager, Operation Manager, Finance Manager, etc.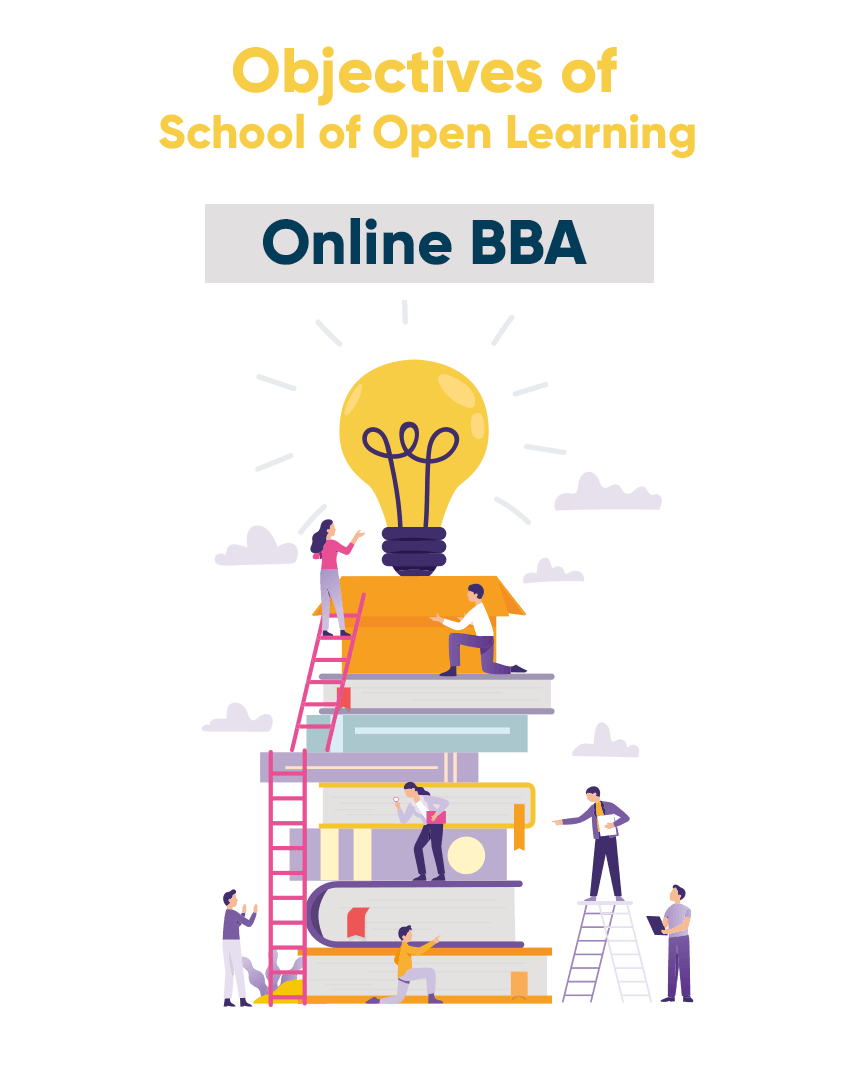 Online BBAs India (Find the Best Schools and Degrees)
Bachelor of Business Administration (abbreviated as BBA) is a popular course among students. After finishing 10 + 2 or 12th grade from a recognized board, students can apply for admission to BBA. Many students who are unable to enroll in regular courses for various reasons can enroll in the online BBA program and continue their studies at DU. Read also: Distance BBA from DU SOL
Medium of Instructions
The university provides study material in either Hindi or English language and even the resources at the digital library are also in both Hindi and English language.
Examinations
The university holds term-end examinations, which students must attend on the designated date. Both assignments and term-end tests are required of the candidates. The assignments are for 30% of the grade, while the term-end tests are worth 70%.
Assignments
You can find your assignment questions on the DU-SOL official website, and all of your grades will be posted there as well. To appear for tests, students must submit all of their assignments.
Term-End Tests
DU-SOL administers exams in a semester format, and all students are required to take the exams on the appointed date. Your exam schedule can be seen on the official website.
DU SOL Sample Certificate
Earn a UGC & AICTE, NAAC A++ -recognised degree from DU SOL
Learn from the best faculty and industry experts.
Become a part of the DU SOL Alumni network.
Build job-ready skills to get ready for the workforce.
Who is Eligible for Online BBA at DU-SOL 2024?
The candidates who have completed 10 + 2 in any stream from a recognized board are eligible to take admission in the online BBA at DU-SOL. The university does not have a minimum requirement of percentage for online and distance learning students. There is also no age limit to take admission in the university.
DU SOL Admissions FAQ
Yes, the degree of BBA from DU-SOL is completely approved by the University Grants Commission.
You need to register yourself on the official website of DU-SOL.
The total academic fee of online BBA at DU-SOL is around RS. 7000 to Rs. 8000.
No, DU-SOL does not offer an online BBA. If you looking for BBA in the online mode then you can consider colleges like NMIMS, Jain University, Chandigarh University, and so on.