Last Date for DU SOL Distance MA Admissions 2024
Admission to this online program in Delhi University's School of Open Learning starts in July. The exact dates for registration & application form filling can be obtained from the official website for each new academic session. You will get the update here regarding the commencement date of online admission in DU-SOL for the 2024 batch. The School of Open Learning, University of Delhi eliminates the requirement for any entrance test as all the processes are based on merit and DUET test. If you want to get admission to DU SOL PG courses, then it is recommended to read the admission brochure carefully.
Students Need to Know Necessary Points Distance MA (Economics/ English/ Psychology/ Journalism and Mass Communication/ Public Policy and Administration Admissions):
Students who have passed graduation or are still in the final year can apply for this Master's program.
Graduation must be done from any recognized university/ institution.
The minimum percentage to get admission at DU SOL is an aggregate of 50% marks or above in the semester or final examination.
There is no upper age limit to pursue masters from DU SOL, you can fill the admission form easily at the official web portal.
DU SOL MA Specializations for 2024 Session
Distance MA In Journalism & Mass Communication
Distance MA Public Policy & Administration Admissions
The programme can be completed by earning the required number of credits under each category in a minimum period of three years (six semesters) or in the maximum period of six years. The required number of credits under each category is as follows: 72 credits of Core Courses, 24 credits of Discipline Specific Electives, 8 credits of Ability Enhancement Compulsory Courses, 16 credits of Skill Enhancement courses, and 12 credits of Generic Electives.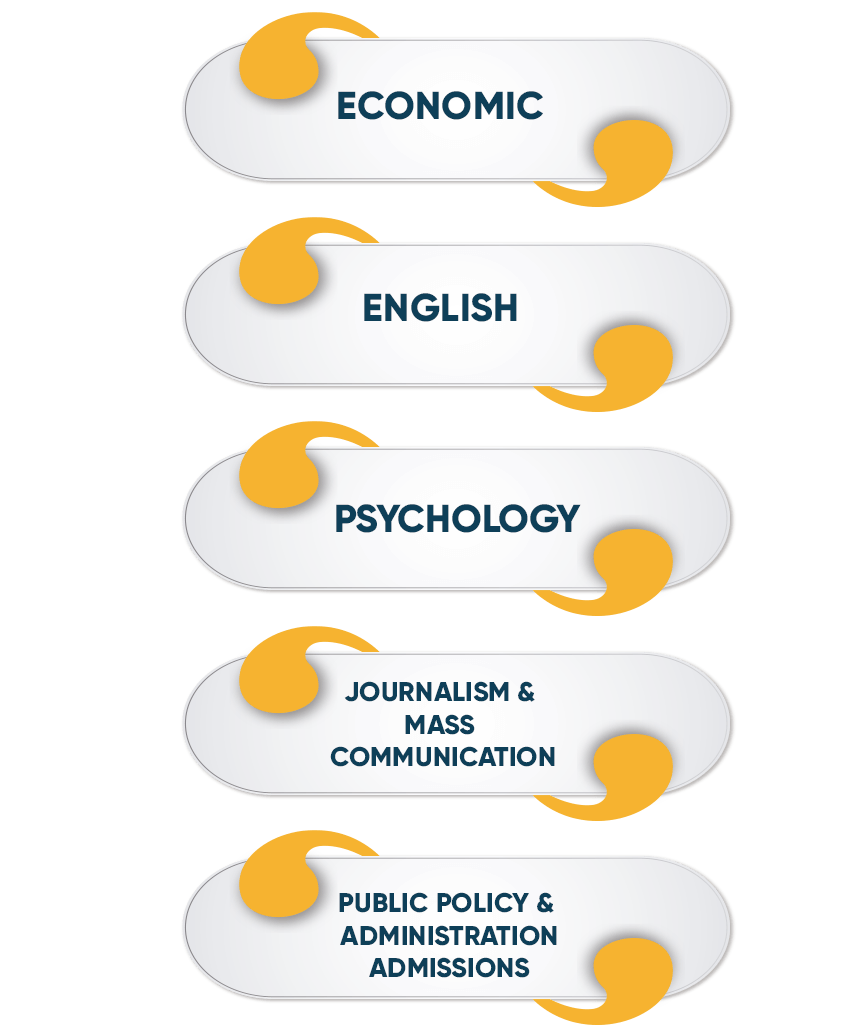 Distance MA India (Find the Best Schools and Degrees)
DU SOL MA is a distance master's degree program offered by the university's distance department. The institution enables students to attend their course lectures and classes without attending the institution regularly. There are several advantages of having a Master's degree from the University of Delhi's School of Open Learning. You can do your master's degree program along with your work or job.
Master of Arts or MA degree provided under PG courses by the university. If you want to pursue your master's degree course, then you have to attend lectures and classes online or once or twice a week. Take guidance from your respective mentor, professor, or instructor. MA or master of arts in English is one of the most popular programs out there. The complete training is time-saving and easily accessible by the students.
The online platforms are also very user-friendly. You can get complete information about your respective company by visiting your DU SOL website. MA provides several career benefits to students as a PG degree is required by many MNCs and big companies. If you are a working professional and want to pursue your master's degree program from DU SOL, then MA is one of the best and most preferred options out there. Read the below-mentioned points to know more:
Mode of Instruction
The medium of instruction for Pol. Science and History in English and Hindi both but for Sanskrit and Hindi specializations, the medium is Hindi only. Students need to mention their mode of learning or education in their application form while admission to the respective course. However, at the time of examination, any medium can be selected irrespective of the medium of lecture.
Study Materials
The primary and most important mode of instruction is available in printed form through books, notes, and other study materials. These things provided by the university are student-friendly and easily readable. You can also download the same using the official website of DU SOL. With study material, students will get a complete overview and course description along with an appropriate syllabus to study to get the degree. The printed materials are enough to prepare for term-end examinations and completing assignments/projects.
Annual Examinations
In DU SOL, you have to appear for annual examinations after learning your first-year syllabus and course books. If you want the best results in your term or annual examination each year, you have to take assistance and other academic help from your professors, teachers, education councilors, and so on. In DU SOL, you have to appear for the exams in June for every paper. Before appearing for the examinations, you have to fill the examination form.
Assignments
Generally, DU SOL provides assignments in printed form along with study materials but if you don't have assignments with your study materials, then it is recommended to download the same using the official website. Assignments are for ongoing assessments. These assignment papers will provide you supportive marks for your final or annual examinations. About thirty percent of marks are carried by these assignments. So, it is always recommended to prepare your assignments with intense care.
DU SOL Sample Certificate
Earn a UGC & AICTE, NAAC A++ -recognised degree from DU SOL
Learn from the best faculty and industry experts.
Become a part of the DU SOL Alumni network.
Build job-ready skills to get ready for the workforce.
Who is Eligible for School of Open Learning Admissions?
UG Courses
10+2 from a recognized Education Board
A minimum of 45-50% marks in the qualifying exam.
Basic Knowledge of the English language.
PG Courses
Graduation from a recognized university.
At least 45-50% marks in the qualifying exam.
Must have studied the English language at 10+2 or graduation level.
Note: For some courses, the university might conduct an entrance exam & the eligibility will also depend on the scores of that exam.
DU SOL Admissions FAQ
Yes, DU SOL provides quality and UGC-approved degree courses in Master's degrees. If you are pursuing MA from this institution, you can easily go for a Ph.D. degree.
The last for taking admission to PG courses in DU SOL has been extended to October 30, 2021
Yes, DU SOL is currently providing MA degrees in four main specializations. They are Hindi, History, Pol. Science and Sanskrit.