What is the Last Date for DU SOL Distance BBA 2024?
The admission for Delhi University School of Open Learning begins in the month of July for each new batch. All the courses offered at DU SOL are open for admission during that period. To get updated with the commencement date of online admission in DU-SOL for each new batch, students are advised to visit the official website.
To avoid such last-minute hustles, bad server, and payment issues. Candidates who are interested in enrolling in taking admissions to DU SOL distance Bachelor of Business Administration (BBA) degree may visit at the university's official website, sol.du.ac.in. Only 12th pass-out students can be admitted to this distance BBA course, as it is a Bachelor's professional degree.
Though students can pursue this distance BBA degree simultaneously with their respective jobs. The curriculum of this BBA degree course is highly flexible and understandable. After this BBA degree, students can get many job opportunities in the field of the professional and corporate world.
Objective of School of Open Learning (DU) Distance BBA
The main objective of Distance BBA is to provide the basic knowledge of business administration and management to the students who are ready and willing to make their careers in the business corporate world. Distance BBA program can be completed by earning the required number of credits under each category in a minimum period of 3 years or in the maximum period of 6 years. The other main objectives of Distance BBA course are below mentioned here:
This course develops the entrepreneurial skills, leadership skills, decision-making abilities of the students.
Students/ candidates will gain knowledge of business processes and global trade issues and understand the role of the economy in business and the market.
Students will acquire the skills to perform managerial and business management functions effectively and efficiently.
Students can pursue this course even with their jobs or other personal work.
After completion of the Distance BBA degree, students will enjoy higher salaries in government, private, and MNCs with various designations such as Marketing Manager, HR Manager, Operation Manager, Finance Manager, etc.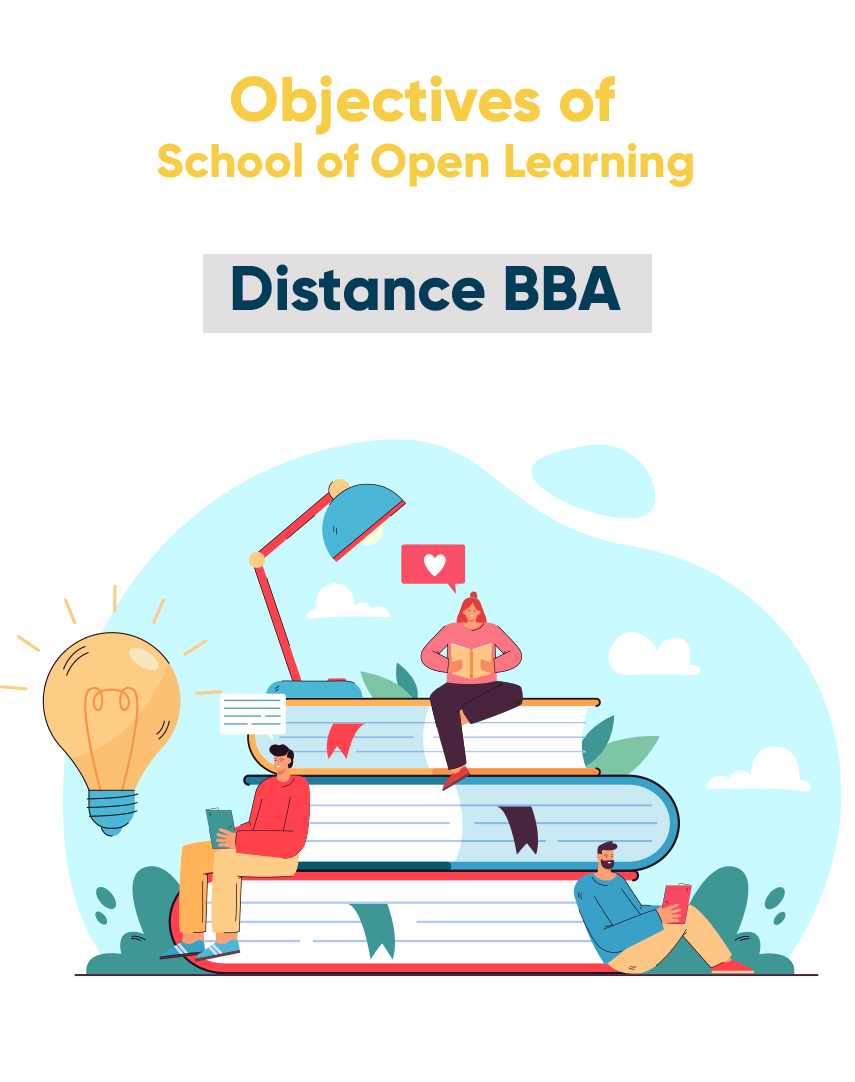 Distance BBA India (Find the Best Schools and Degrees)
BBA is amongst the most preferred professional degrees out there. It has many potentials and can easily lead to satisfying and fulfilling a career in management courses. Today, there are many universities that provide BBA degrees in various specializations. Delhi University is one of the reputed educational institutions that offer quality education in UG and PG courses. BBA is designed to make students ready for various managerial and business posts. Students can check the online admission date, eligibility criteria, fee structure, etc before taking admission to the BBA program or any other program. The complete information is mentioned on the university's website.
Medium of Instructions
The primary medium of instruction for the BBA program is English as it is a universal language and students coming from other countries can also take lectures with Indian students. The course material and syllabus are student-driven and the students are advised to take part in all the activities of their course to get updated about their assignments, projects, and practical. The University of Delhi also provides quality education through digital mode. You can easily download course material and program structure by using your login ID and password.
Examinations
The examinations are of two types: theory papers and assignments. Students need to obtain at least a minimum passing percentage in both the assessment papers. Assignments carry 30% weightage while 70% weightage is carried by theory papers. Students have to submit registration fees for the upcoming semester just before the start of the same. Students need to obtain at least 40% marks in the term-end examination and evaluation.
Assignments
Assignments are one of the most important factors in assessing aggregate marks for a particular student. Students are required to prepare their assignments before appearing for every semester examination. The total marks obtained in assignments and semesters will be counted for evaluation. Assignments play a great role in passing a low-scoring student and getting a degree.
Term-End Tests
Semester Examinations play the role of term-end examinations. After reading all the subjects of your semester, you need to appear for the examination. At the time of result, a student will get aggregate marks with term-end examination and assignments. Students have to clear all the papers to get the passing result. Submit your examination form before appearing for the term-end or semester examination.
DU SOL Sample Certificate
Earn a UGC & AICTE, NAAC A++ -recognised degree from DU SOL
Learn from the best faculty and industry experts.
Become a part of the DU SOL Alumni network.
Build job-ready skills to get ready for the workforce.
Who is Eligible for DU - School of Open Learning Admissions?
UG Courses
10+2 from a recognized Education Board

A minimum of 45-50% marks in the qualifying exam.

Basic Knowledge of the English language.
PG Courses
Graduation from a recognized university.

At least 45-50% marks in the qualifying exam.

Must have studied the English language at 10+2 or graduation level.
Note: For some courses, the university might conduct an entrance exam & the eligibility will also depend on the scores of that exam.
DU SOL Admissions FAQ
The required percentage is 50% and the minimum qualification is a 10+2 examination passed from a recognized university.
All the specializations of BBA are good. You can take admission as per your need in which you want the job after completing your course.
Yes, BBA is a three-year degree course that needs assignment submission from students for the final evaluation.
No, DU-SOL does not offer a BBA course. If you are looking for BBA in distance mode then you can consider colleges like NMIMS, Jain University, Chandigarh University, and so on. We have written this article only because it has too many searches on google by this keyword. We just want to spread awareness about the courses and give the student a complete guidance to pick the course as per their choice of interest.