What is an MCA in Data Analytics?
An MCA in the specialisation of Data Analytics is a postgraduate degree course exploring the concepts, practices and various technologies used in data analytics for business growth and development. The course has an updated curriculum, based upon latest industry standards, and covers a number of practical aspects of data analytics, making the course useful for skill development and professional training.
Here are some quick MCA facts about DU-SOL:
The MCA in Data Analytics is a 2 year technical degree program.
Being a postgraduate course, candidates who have graduated from a recognised university with mathematics as a subject (at 10+2 or UG level) can take up this course.
The MCA in Data Analytics course has an average fee range between INR 2,00,000 to INR 2,50,000.
The course is designed to meet the academic and professional needs of graduate freshers and working professionals.
Online MCA Specializations Offered by DU SOL
MCA in Computer Science and IT
MCA in Full Stack Development
The candidates will get the following options of online MCA specializations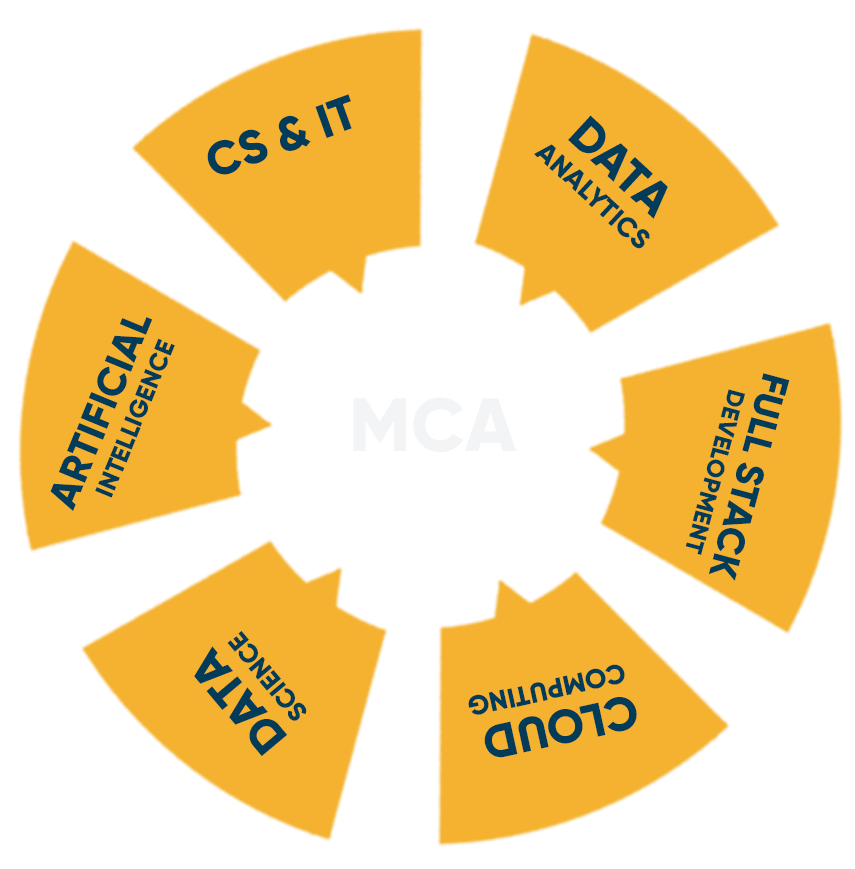 DU-SOL MCA Data Analytics in India (Find the Best Schools and Degrees)
The MCA in Data Analytics is a futuristic PG degree program aiming to provide insights into the data analytics domain, with a focus on latest industry practices. The field of data analytics, closely related to data science and business analytics, provides a student with a wide range of career options to explore in the IT sector as well as business and corporate enterprises actively employing data analytical tools.
Modes of Delivery
This course can be delivered in the regular mode as well as the ODL and online modes as per the guidelines of UGC-DEB. An MCA in Data Analytics is a valid degree program to be delivered in the online and distance modes, and shall hold equal credibility as regular MCA courses if they have been completed from accredited institutions of higher education for online/distance education. Online MCA in Data Analytics provides the flexibility of self-paced learning along with pursuing other engagements.
Evaluation
Course evaluation of an MCA in Data Analytics is conducted along two dimensions- the Internal Assessment, including assignments, projects, quizzes, hands-ons sessions etc. and term-end exams in each semester. The ratio of academic weightage of marking is 30:70 for IA and final exams respectively. Students must maintain a minimum score of 40% in IA as well as term-end exams and an aggregate of 45% to qualify each semester.
Career Scope
The career scope for this course is vast, and graduates can explore jobs in fields like data science, business analytics as well in addition to data analytics since these domains are quite closely related. The top job roles in the data analytics sector include analytics producer manager, data analyst, big data analyst, analytics manager, business intelligence analyst, web developer etc. The average package that a fresher data analytics graduate can grab is anywhere between INR 6 LPA to INR 8 LPA.
Placement Partners
Data analysts can seek jobs in corporate companies, IT firms, software development agencies, multinational companies, business strategy companies etc. Some of the reputed hirers of MCA Data Analytics graduates include Tata Consultancy Services, WIPRO, Google, Microsoft, Accenture, Deloitte, Cognizant, IBM, Infosys etc. Entry-level positions (for freshers) as well as middle to top level positions are offered to data analysts in these companies.
DU SOL Sample Certificate
Earn a UGC & AICTE, NAAC A++ -recognised degree from DU SOL
Learn from the best faculty and industry experts.
Become a part of the DU SOL Alumni network.
Build job-ready skills to get ready for the workforce.
Who is Eligible for School of Open Learning Admissions?
UG Courses
10+2 from a recognized Education Board
A minimum of 45-50% marks in the qualifying exam.
Basic Knowledge of the English language.
PG Courses
Graduation from a recognized university.
At least 45-50% marks in the qualifying exam.
Must have studied the English language at 10+2 or graduation level.
Note: For some courses, the university might conduct an entrance exam & the eligibility will also depend on the scores of that exam.
DU SOL Admissions FAQ
Yes, as per guidelines of UGC-DEB, when completed from a UGC-accredited university, an MCA in Data Analytics is a valid degree with equal value as a regular MCA course.
The full course fee for an MCA in Data Analytics ranges from INR 2,00,000 to INR 2,50,000 for the online and distance modes.
The full course period of an MCA in Data Analytics is 2 years (compulsory period) to 4 years (maximum duration).
No, a candidate can only pursue an MCA if they have studied mathematics as a compulsory subject in the HSC or Bachelor's level.