What is an MCA in Cyber Security?
The MCA in Cybersecurity is a postgraduate degree course. This is one of the highly demanded technical courses in India, and includes various core concepts of computer applications along with foundational concepts and skills of the cybersecurity domain. This course has been prepared in accordance with UGC guidelines and the inputs from professionals about the current industry demands, making a strong case for a successful career development.
Here are some quick MCA facts about DU-SOL:
MCA in Cybersecurity is a postgraduate degree program.
An MCA in Cybersecurity has a duration of 2 years, divided into 4 semesters.
Students pursuing the course learn about the foundational computer applications courses in the first two semesters, and the specialisation courses are introduced in the third and fourth semesters.
Students also receive placement support for this course.
Online MCA Specializations Offered by DU SOL
MCA in Computer Science and IT
MCA in Full Stack Development
The candidates will get the following options of online MCA specializations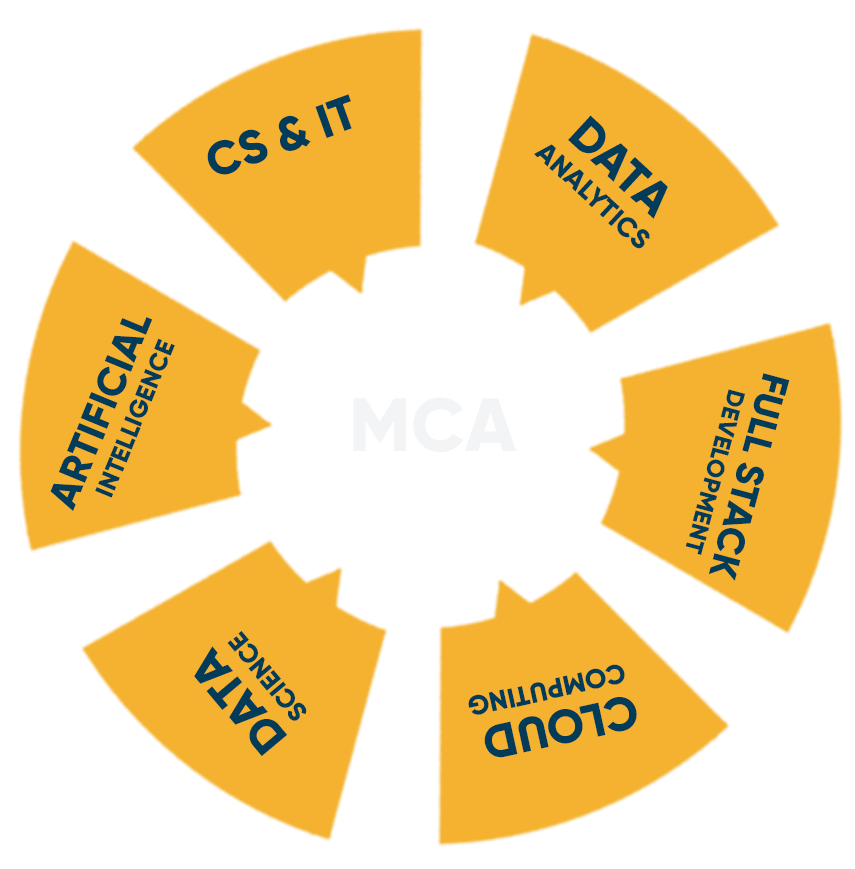 Online MCA Cyber Security in India (Find the Best Schools and Degrees)
The Cybersecurity specialisation in MCA is a prosperous area to opt for, especially for those candidates who wish to develop a career in the domain of security, data security, threat analysis etc. in the IT Sector. This course curriculum has also been accordingly prepared to enable students to have an in-depth understanding and the requisite professional skills for succeeding in the industry.
Modes of Delivery
This course is delivered in mainly modes of education, the regular learning mode, the Open Distance Learning (ODL) mode and the online learning mode (OL). With the changing trend in the popularity of online and distance courses, many top universities of India are now providing the course in the ODL or OL mode, with a number of technology-driven support features for ease of learning.
Evaluation
The evaluation for this course includes 3 main components– the Internal Assessment (which includes the various assignments, hands-on activities, projects and quizzes), the Practicum papers (for final evaluation) and the Term-End Examinations (for final evaluation). The academic weightage is usually in the ratio of 30:70 for IA and term-end exams. Students must score a minimum of 40% aggregate to qualify a paper. A minimum of 40% aggregate marks is also required in IA.
Career Scope
Being a technical and professional course, it offers good career scope and job options after completion. MCA in cybersecurity can venture into various public and private sector IT jobs. They can explore domains like IT consultancy, cybersecurity analysis, ethical hacking, threat and vulnerability analysis, information security etc. They can secure jobs with a gross package ranging from INR 6 LPA to INR 20 LPA. Some of the best job roles to take up include computer network architect, cybersecurity director, information systems manager, penetration tester, ethical hacker, information security analyst, software developer etc.
Placement Partners
Some of the top well-known companies that hire MCA graduates include those like WIPRO, TCS, Accenture, Cognizant, Deloitte, IBM, Infosys, HCL, Microsoft, Oracle etc. Top multinational companies, private enterprises, IT firms etc, along with mainstream business and corporate companies hire MCA cyber security graduates for analysis, security and protection of their cyber data and information.
DU SOL Sample Certificate
Earn a UGC & AICTE, NAAC A++ -recognised degree from DU SOL
Learn from the best faculty and industry experts.
Become a part of the DU SOL Alumni network.
Build job-ready skills to get ready for the workforce.
Who is Eligible for School of Open Learning Admissions?
UG Courses
10+2 from a recognized Education Board
A minimum of 45-50% marks in the qualifying exam.
Basic Knowledge of the English language.
PG Courses
Graduation from a recognized university.
At least 45-50% marks in the qualifying exam.
Must have studied the English language at 10+2 or graduation level.
Note: For some courses, the university might conduct an entrance exam & the eligibility will also depend on the scores of that exam.
DU SOL Admissions FAQ
No, DU-SOL is not offering an MCA in cybersecurity currently. However, other duly accredited online universities such as Jain University are providing this course in the fully online mode.
The full course fee for the MCA in cybersecurity ranges from INR 1,50,000 to INR 2,00,000, varying as per the university you choose to take the course up from.
No, only students who are graduates and have studied mathematics as a subject either at the 10+2 level or at the graduation level are eligible to take the course up.
Yes, professional training, placement assistance and services are usually provided with this course as it is a professional course.