What is an MCA in Cloud Computing?
MCA in Cloud Computing course is a degree program at the PG level designed for graduates and working professionals desiring to learn more about cloud computing aspects, the important principles, concepts and strategies used in this field. This is a 2-year degree course comprising various theoretical papers and integrated practical papers. The curriculum for this course is updated and as per latest industry standards.
Here are some quick MCA facts about DU-SOL:
MCA in Cloud Computing is a 2 year postgraduate degree course.
The MCA in Cloud Computing can be taken up by aspirants who have completed Bachelor's along with a mathematics background (either in graduation or in class 12th).
Usually the admissions to this course are conducted on the basis of eligibility criteria for the online and distance modes of learning.
The average course fee for an MCA in Cloud Computing ranges from INR 2,00,000 to INR 2,50,000.
Students completing this course can seek jobs in the IT and technology world and corporate domains in addition to public sector job fields.
Online MCA Specializations Offered by DU SOL
MCA in Computer Science and IT
MCA in Full Stack Development
The candidates will get the following options of online MCA specializations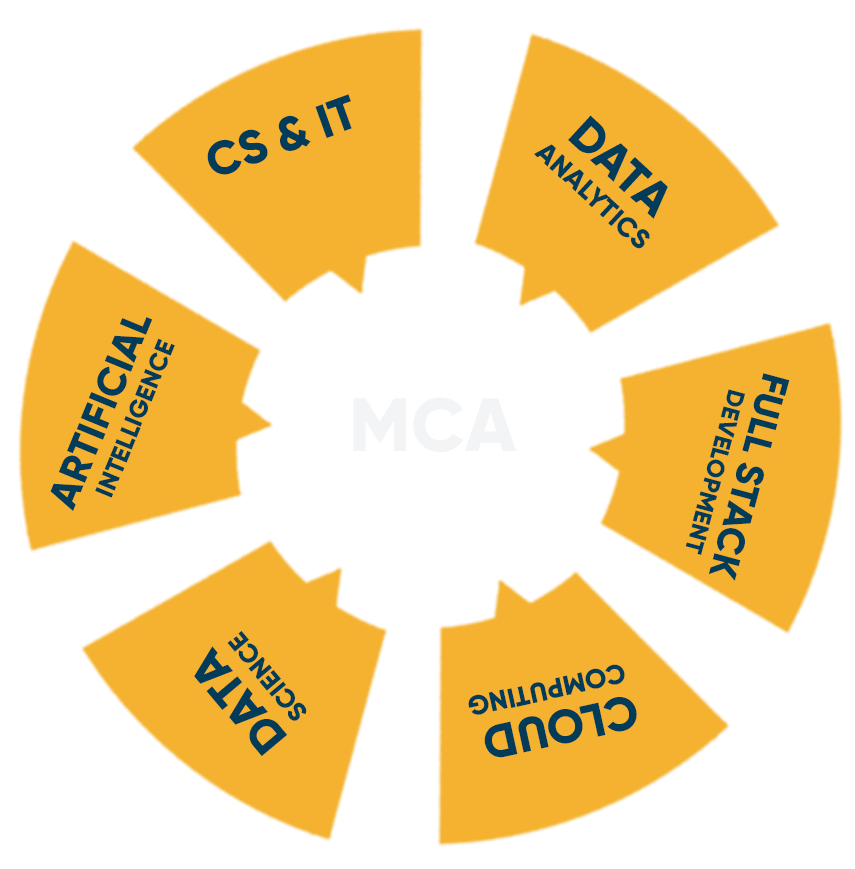 DU-SOL MCA Cloud Computing in India (Find the Best Schools and Degrees)
The MCA program in Cloud Computing has been prepared with close consideration of various industry demands, industry relevant practices and necessary skills needed to thrive in this sector. As a result, this course caters well to the academic and professional needs of students and working professionals. Through 2 years, various key cloud computing technology and practices are introduced and practical skill training is provided alongside.
Modes of Delivery
This course is offered in three modes in colleges and universities of India. These include the conventional regular mode of education, the distance mode of learning and the online mode of learning. UGC-DEB has provided its approvals for offering the MCA in Cloud Computing in both the ODL modes and fully online modes, and so, many top universities are switching to the online mode of education for this course, as it facilitates hands-on learning about computer cloud devices. An online or distance MCA in Cloud Computing holds equal value and credibility as a regular MCA in India as per UGC instructions.
Evaluation
The evaluation criteria for this course includes the Internal Assessment of the students through performance on assignments, projects, quizzes, hands-on sessions etc. The other aspect of the evaluation of performance in the course is through the term-end exam conducted after the completion of classes in each semester. The academic weightage between IA and semester exams is in the ratio of 30:70. A student must score at least 40% aggregate marks in the IA and term-end exams individually to qualify a paper. The overall passing criteria for a full semester is a minimum aggregate of 45% to 50% marks, including the practical viva.
Career Scope
This degree has a good scope for career development in sectors such as data security, cloud security, software engineering etc. The job roles are available majorly in the private sector, in IT firms, MNCs and corporate companies. Some of the top job roles one can take up after this course includes cloud architect, database engineer, cloud infrastructure engineer, cloud software engineer, cloud software architect etc. The average starting salary in the field is in the range of INR 5 LPA to INR 7 LPA, which can further grow through career escalation.
Placement Partners
Some of the top companies that hire MCA in Cloud Computing graduates include those like Google Cloud Platform, Microsoft Azure, Oracle, IBm Cloud etc. These companies hire cloud computing professionals and are some of the biggest names in this domain. They hire MCA graduates for entry to middle level positions, and offer appealing compensation for the job roles.
DU SOL Sample Certificate
Earn a UGC & AICTE, NAAC A++ -recognised degree from DU SOL
Learn from the best faculty and industry experts.
Become a part of the DU SOL Alumni network.
Build job-ready skills to get ready for the workforce.
Who is Eligible for School of Open Learning Admissions?
UG Courses
10+2 from a recognized Education Board
A minimum of 45-50% marks in the qualifying exam.
Basic Knowledge of the English language.
PG Courses
Graduation from a recognized university.
At least 45-50% marks in the qualifying exam.
Must have studied the English language at 10+2 or graduation level.
Note: For some courses, the university might conduct an entrance exam & the eligibility will also depend on the scores of that exam.
DU SOL Admissions FAQ
The minimum eligibility condition for admission to this course is a valid Bachelor's degree (BCA/B.Sc/BE/Other Bachelor) from a recognised university, having studied mathematics at the HSC or graduation level and a minimum 50% aggregate marks in graduation.
The full duration of this course is from 2 years (minimum period) to 4 years maximum period).
If you are pursuing the course in the online mode or distance mode, then there are usually no entrance tests to get admitted in the program, you need to meet the minimum eligibility criteria for the course.
The full course fee for an MCA in Cloud Computing is between INR 2,00,000 to INR 2,50,000 for 2 years. The course fee can be paid in semester-wise or annual instalments as per university provisions and guidelines.