What is an MCA in Artificial Intelligence?
The MCA course in AI is a postgraduate degree program focused on the various aspects of information technology and the science of Artificial Intelligence. This is a 2-year degree that aims to provide a holistic understanding about the foundations of IT and computer applications, alongside a comprehensive coverage of AI concepts.
Here are some quick MCA facts about DU-SOL:
An MCA in AI is a 2 year degree program of the PG level.
This course is approved by the UGC-DEB for delivery in distance and fully online modes.
This course is for graduates who have a mathematical background (in either 10+2 education or graduation) and have scored at least 50% aggregate marks in Bachelor's.
The course is useful for career development in the AI and ML domains, which are currently prospering.
Online MCA Specializations Offered by School of Open Learning
MCA in Computer Science and IT
MCA in Full Stack Development
The candidates will get the following options of online MCA specializations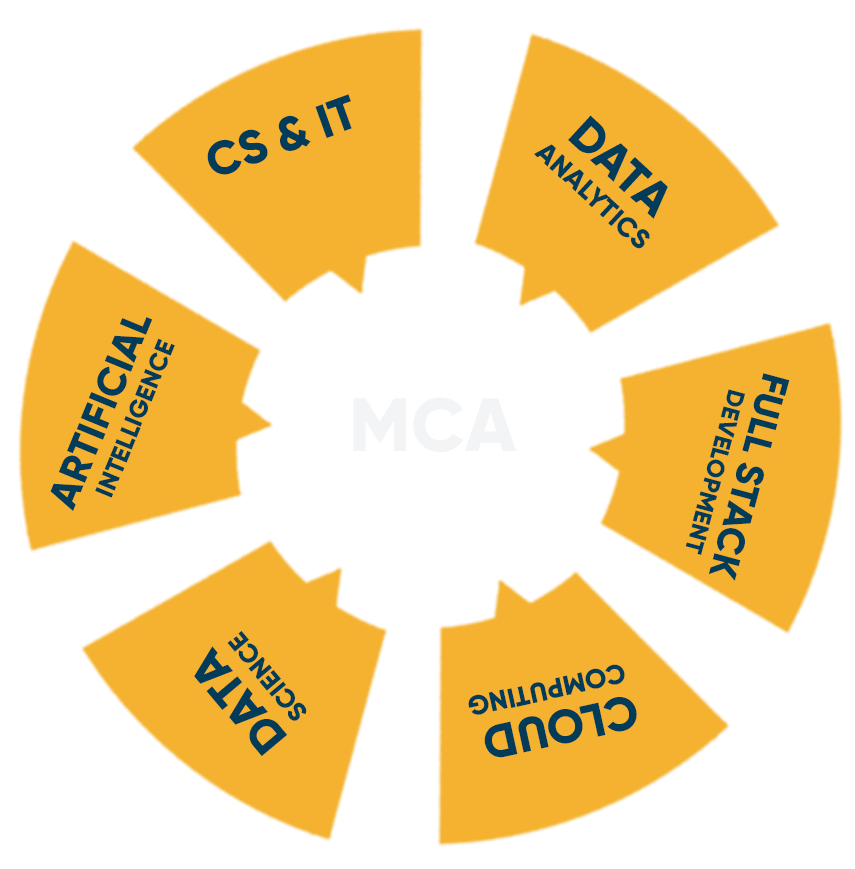 Online MCA Artificial Intelligence in India (Find the Best Schools and Degrees)
Modes of Delivery
While an MCA in Artificial Intelligence is provided in the offline or regular learning modes by a number of universities, with the approval of UGC-DEB, many top universities of India are now also offering a fully online MCA in Artificial Intelligence. An online (or a distance) MCA in AI is considered of equivalent value as a regular MCA course if it has been completed from a UGC-DEB accredited university/college. But an additional advantage of pursuing an online MCA in AI is the increased flexibility of learning and hands-on learning of the various technologies of AI.
Evaluation
Course evaluation for an MCA in AI consists of 2 aspects– Internal Assessment and term-end examinations. The IA consists further of assignments, project work, quizzes etc. The term-examinations include semester-end theory exams as well as the incorporated aspect of performance on the practicums. The academic weightage between these two components is in the ratio of 30:70 respectively. The passing criteria is at least 40% aggregate marks individually in both the IA and term-end examinations.
Career Scope
Artificial intelligence is a fast growing field in the IT sector and the job domains and roles available are also increasing. Graduates of this course in AI can also seek jobs in fields like Machine Learning, Deep Learning etc. which are closely related to AI. Some of the prominent and well-paid job roles in this field include Artificial Intelligence/Machine Learning developer, quantitative analyst, deep learning engineer, robotics engineer, data architect, computer vision engineer etc.
Placement Partners
Multinational companies, corporate firms, IT companies, data security and strategic management companies regularly hire graduates in MCA in AI. Some of the reputed hirers include Samsung, Amazon, Google, Microsoft, Cisco, Infosys, IBM, Accenture, Cognizant, Wipro etc.
DU SOL Sample Certificate
Earn a UGC & AICTE, NAAC A++ -recognised degree from DU SOL
Learn from the best faculty and industry experts.
Become a part of the DU SOL Alumni network.
Build job-ready skills to get ready for the workforce.
Who is Eligible for School of Open Learning Admissions?
UG Courses
10+2 from a recognized Education Board
A minimum of 45-50% marks in the qualifying exam.
Basic Knowledge of the English language.
PG Courses
Graduation from a recognized university.
At least 45-50% marks in the qualifying exam.
Must have studied the English language at 10+2 or graduation level.
Note: For some courses, the university might conduct an entrance exam & the eligibility will also depend on the scores of that exam.
DU SOL Admissions FAQ
No, since this course requires the candidate to have mathematics at the 10+2 or graduation levels, you cannot take up the course if you do not meet either of these conditions.
Yes, as per UGC-DEB guidelines, an MCA in AI in the online mode will be considered equally valid and credible as a regular MCA course.
No, DU-SOL does not offer an MCA course in Artificial Intelligence. However if you wish to take up an online MCA in AI, you can explore your options in top accredited online universities.
In case you are taking up an MCA in AI in the online or distance modes, there are usually no entrance exams for admissions, and the selection is conducted on the basis of the main eligibility criteria.