What is the last date of DU-SOL Online BCA Admissions 2024?
Admission to this online program in Delhi University's School of Open Learning starts in July. The exact dates for registration & application form filling can be obtained from the official website for each new academic session. You will get the update here regarding the commencement date of online admission in DU-SOL for the 2024 batch. Students are advised to register themselves first on the official website of DU SOL and then start fill-in in the whole admission form of their respective selected online BCA course. Online BCA is a professional degree course that is popular among students who want to jumpstart their respected careers in the field of Information Technology.
Online BCA is a 3-year degree course that impacts knowledge of computer application and software development. After being done with this online BCA degree, a student can apply in the pool of job opportunities in various fields such as Data Analysts, Data Scientist, System Admin, Network Engineer, Project Assistant, Computer Programmer, Software Developer, and especially in the IT sector. A student must have an aggregate of 50% or above marks in their 12th board in any stream (Science, Commerce, and Arts) with compulsory subjects of English and Mathematics. It's a bachelor's degree programme best for the students who are keen on making their successful career in the following above-mentioned fields/ sectors. If a student gets any query related to the course or needs to know more about the MCA program, they can visit or mail at the DU SOL official web portal.
Objective of School of Open Learning (DU) Online BCA
Online BCA (Bachelor of Computer Applications) is a three-year undergraduate program in the field of Computer Science and Information Technology. The primary objective of this program is to provide a foundation of computing principles and business practices for the effective use of or managing information systems and enterprise software. The other main objectives of Online BCA Course are mentioned below:
During the entire course student will study such core topics as fundamentals of computer, programming languages, database management, web designing, Java, operating systems, etc.
DU SOL provides Online BCA in highly affordable fees which students can pay in one go or in installments or even semester-wise.
The program makes students skilled and technical expertise in the field of IT industry, Database Management Systems, and more. With the rapid growth in the IT industry, there is a huge demand for IT professions throughout the world.
Students can pursue this Online BCA program even with their jobs, DU SOL provides intact knowledge and skills which students can use in their working corporate life as well.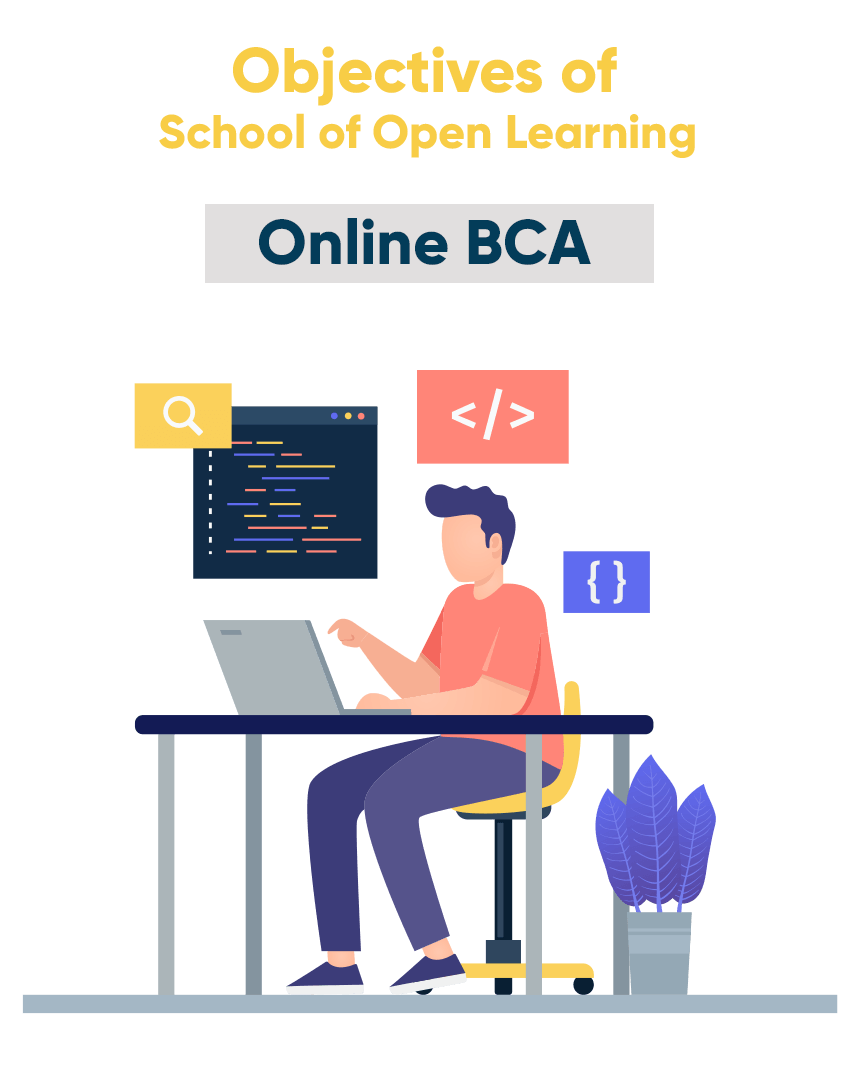 Online BCA India (Find the Best Schools and Degrees)
Online BCA is one of the most opted degree programs for students who are willing to work in the Information Technology domain. You will get a detailed description of online BCA below:
Medium of Instructions
At Delhi University-School of Open Learning, study materials are provided in Hindi or English, and the digital library's contents are also available in both languages.
Examinations
The university holds term-end exams, which students are required to attend on the days specified. Candidates must complete both assignments and term-end examinations. Tests at the conclusion of the term account for 70% of the mark, while assignments account for 30%.
Assignments
Because assignments are such an important criterion for evaluating students' success, they must be turned in on time. The questions for the assignment can be obtained on the DU-official SOL website. These tasks are worth a total of 30% of your grade.
Term-End Exams
DU-SOL conducts term-end exams for the evaluation of students' performance and the marks obtained will be calculated to calculate your percentage in the end. The candidates are required to fill and submit the examination form to be eligible to give exams in the end.
DU SOL Sample Certificate
Earn a UGC & AICTE, NAAC A++ -recognised degree from DU SOL
Learn from the best faculty and industry experts.
Become a part of the DU SOL Alumni network.
Build job-ready skills to get ready for the workforce.
Who is Eligible for School of Open Learning Admissions?
UG Courses
10+2 from a recognized Education Board
A minimum of 45-50% marks in the qualifying exam.
Basic Knowledge of the English language.
PG Courses
Graduation from a recognized university.
At least 45-50% marks in the qualifying exam.
Must have studied the English language at 10+2 or graduation level.
Note: For some courses, the university might conduct an entrance exam & the eligibility will also depend on the scores of that exam.
DU SOL Admissions FAQ
The candidates must have completed 12th in any discipline from a recognized board.
You can calculate your percentage by checking the marks obtained by you. You just need to divide your marks by the total marks obtained and multiply it by 100.
You will get your degree after one year of passing all the exams of your degree. You can check the status of your degree on the official website of DU-SOL. You can download the digital degree on the portal of DU-SOL.
No, DU-SOL does not offer an online BCA. If you looking for BCA in the online mode then you can consider colleges like NMIMS, Jain University, Chandigarh University, and so on.